Rebecca Wasilewski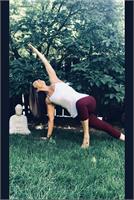 Rebecca is a 200 RYT (De La Sol), Registered Massage Therapist, entrepreneur, wife, and mother to a precious little girl. Rebecca's yoga journey began as a way to continue physical fitness and to heal the body on, "rest days" from the gym, but she learned very quickly that yoga was much more than that, and fell in love with the practice.
Rebecca began her career as an RMT in 2015 and holds Dean's honours with an Advanced Diploma in Massage Therapy. After falling in love with yoga, she found that she wanted to share her passion with as many people as she could. Rebecca opened Namaste Wellness Collective, a multi-disciplinary clinic in downtown Hamilton in July 2018 to share her passion for anatomy, Yoga and Massage Therapy with her community and clients.
Rebecca Wasilewski instructs the following:
A workshop style, all levels flow class taught by an experience RMT. Develop a greater understanding of your body and work out those stubborn areas of tension of the body.