Allison Stark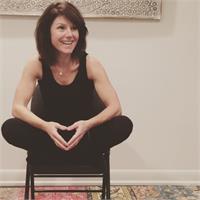 Having been first introduced to yoga by my mother as a young child, I was always intrigued by it and dabbled here and there over the years but didn't take the steps towards a dedicated practice until much later in life. In 2014 I joined De La Sol having spent the previous year recovering from a stroke. There, I found my practice, I found proper alignment, I found my breath, and I found myself, all amongst a beautiful community of people – students and teachers alike. Having recently completed the amazing experience of De La Sol YTT this year, I am developing my teaching style to support the unique story of each student from the beginner to multi-decade practiced yogi. I believe it is incredibly important to develop an eye that moves students into shapes that work best for their physicality and moves them away from trying to mimic the people next to them or what they've seen in photos. Off the mat, my passion for teaching chair yoga to seniors has confirmed "Yoga is not about touching your toes, it's about what you learn on the way down" ~ Jigar Gor
Allison Stark instructs the following:
Learn the fundamentals of a vinyasa style practice, where movement is linked with breath. Expect to sweat in this class geared to those new to yoga practice. A general level of fitness is recommended.




Enjoy this candle-lit class created to relieve stress and tension. The heat stimulates deep muscle release and detoxification of the body and the relaxed atmosphere helps to quiet the mind. This class ends with savasana accompanied by crystal singing bowls for sound healing. Open to all levels, including absolute beginners and a great introduction to the Infrared Hot room.