Jacey Mazurek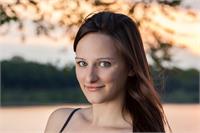 Jacey graduated from De La Sol's Teacher Training in 2015 and started teaching yoga full time between different studios. She teaches everything from pranayama in a Sweat Relax Restore to challenging apex poses in a Vinyasa Level 1. Jacey reads her students before class so she can tailor the class to their needs. She teaches a mindful class with emphasis on cues and likes using open ended questions to encourage her students to delve deeper into their practice. Jacey likes to leave enough time near the end of her classes so her students have time to let go of their practice with a deep savasana. (She may even chant while playing singing bowls or give essential oil neck massages!)
Jacey Mazurek instructs the following:
Enjoy this candle-lit class created to relieve stress and tension. The heat stimulates deep muscle release and detoxification of the body and the relaxed atmosphere helps to quiet the mind. This class is open to all levels, including absolute beginners and a great introduction to the Infrared Hot room.




Open Flow is a class designed to cater to students of all levels who have a generally good level of fitness and ideally, some yoga experience. Different modifications will be offered to suit intro level students up to intermediate and advanced.