Christine Hamilton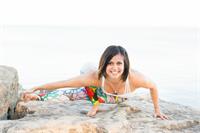 Christine was first introduced to yoga in 2011 at De La Sol Hamilton (pretty neat huh??). After her first class she knew that it was the start of a beautiful friendship. She had been searching for something that she was passionate about and yoga was it!!
After practicing for a couple of years she took a leap of courage and enrolled in the teacher training program at Power Yoga Canada. Six months of training was even more proof that yoga was something that Christine wanted to share with people. And even thought she is new to the yoga scene, her love and joy for yoga comes out in her playful and inspirational teaching style.
Christine is a bright light with an infectious energy which most people who come into contact with her can attest to. She is a "what you see is what you get" kind of gal….on and off her mat! And it is with so much love and gratitude to De La Sol that her heart, mind and spirit have been opened to this beautiful thing we call yoga
Christine Hamilton instructs the following:
A non-athletic style of practice suitable for those with injuries or mobility issues. A supportive and intelligent approach to gently opening the body, learning to breathe more efficiently and relieving the mind of stress and tension.




An all levels flow class with an emphasis on deep stretches and longer held poses.