Naz (Rebecca) Zarezadegan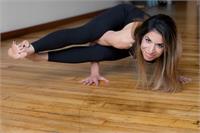 Naz's love for yoga was first discovered in 2002. Struggling with obesity at the time and knowing changes needed to be made, she started her daily practice in her living room to a Yoga dvd until eventually making her way into her first studio class. With a daily practice, and balanced nutrition Naz fell in love with Yoga and successfully lost 125 pounds and has successfully maintained her dedication to self improvement.
Through encouragement and support from her family and friends Naz completed her 200hr Hatha-Vinyasa Teacher Training at De La Sol.
Naz's passion for fitness and desire to explore mind/body connection flourishes through her yoga teaching. Her classes offer powerful fitness sequences, with a focus on flow and core. Naz's favourite poses are triangle pose "trikonasana " and four limbed staff pose "chaturanga dandasana"
Naz (Rebecca) Zarezadegan instructs the following:
A popular style of practice where the first half of the class is vigorous (a level 1-2 flow) and the second half is passive and restorative.




Open Flow is a class designed to cater to students of all levels who have a generally good level of fitness and ideally, some yoga experience. Different modifications will be offered to suit intro level students up to intermediate and advanced.




Minimal alignment instruction is given and the focus is on moving from one challenging sequence to the next while maintaining a deep, steady breath. Truly a workout for mind, body and soul!