Alaina Evans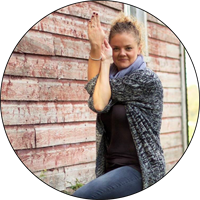 As a competitive dancer throughout her childhood and teenage years, Alaina first came to yoga as a way to stay fit and flexible as she came into adulthood. Soon after beginning to practice she realized that there was so much more to yoga than the physical postures. She began to notice how she was able to cope with stressful situations and felt more balanced in her everyday life. Alaina loves the physical, mental and spiritual connection that yoga marries. She loves to challenge herself physically while working to maintain a calm breath and calm mind in her practice and loves to bring this to her teaching as well. She graduated from De La Sol 200 YTT program and immediately began teaching. She has also been certified in Prenatal and Children's Yoga. She is so excited to be able to share her passion for the practice with others.
Her favourite pose is Garudasana (Eagle Pose) as she loves the feeling of fresh prana and energy flowing through the body after restricting the flow in the pose.
Alaina Evans is currently not instructing any classes.