Molly Kubes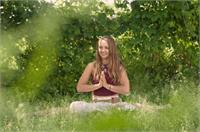 As a Reiki Master and 200 hr Certified Hatha Yoga Teacher, Molly has followed the Yogini's path since a young age. She emanates a true purity of being, and has the rare gift of helping others connect to their power through Mother Earth. Once a provincial level gymnast, Molly first fell in love with the asana and acrobatic side of Yoga. However, as her practice progressed, so did her love for the spiritual side of Yoga. She began to recognize many of the therapeutic benefits Yoga has for the mind as well as the Spirit. Molly has studied from many different teachers and traditions, including Kundalini, Ashtanga, Hatha, and even Shamanism and various forms of energy healing. With love and great respect, she guides her students to be fully connected with their inner radiance and purpose.
Molly Kubes instructs the following:
Open Flow is a class designed to cater to students of all levels who have a generally good level of fitness and ideally, some yoga experience. Different modifications will be offered to suit intro level students up to intermediate and advanced.




Yoga 8 is our way of offering affordable yoga to the community! These classes are open to all levels (see: Open Flow). Auto-Renew monthly members can attend for free; class passes can also be used; $8 drop in fee can be purchased at the studio.




Enjoy this candle-lit class created to relieve stress and tension. The heat stimulates deep muscle release and detoxification of the body and the relaxed atmosphere helps to quiet the mind. This class is open to all levels, including absolute beginners. Done in the regular room with REDUCED HEAT.