Rosanne Shea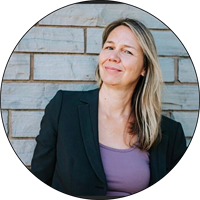 Rosanne Shea believes that there is a style of yoga for everyone and every size or shape of body can benefit from the healing and wellness that yoga brings. Rosanne encourages her students to explore this in themselves, and uncover, celebrate, and honor all of the gifts we have.
Her favorite pose is Wild Thing, because of the exhilarating and celebratory feelings it brings!
She has been practising yoga off and on for about 15 years. In the last 6 years she has been drawn to a regular and consistent yoga practise for the meditative and healing qualities.
Rosanne graduated from Del La Sol's 200 hour Yoga Teacher Training program. She has also completed a 40 hour teacher training in Restorative Yoga, 20 hours in Yoga for Kids, and has a level 2 in Reiki.
Rosanne Shea instructs the following:
A gentle and nurturing practice that uses props, such as bolsters and blankets, to support the body in deep relaxation. Postures are held for longer periods of time in order to stimulate the parasympathetic nervous system and to encourage the body and mind to experience peaceful surrender.

This class is for all levels




Enjoy this candle-lit class created to relieve stress and tension. The heat stimulates deep muscle release and detoxification of the body and the relaxed atmosphere helps to quiet the mind. This class is open to all levels, including absolute beginners and is a great introduction to the Infrared Hot room.




Join us for this special Yoga Nidra class, the sleepless sleep.
Yoga Nidra is a state of conscious deep sleep between wakefulness and dream state.

This is a class and not a workshop...use your passes or do a drop in. Give yourself the gift of relaxation!