Peter Monos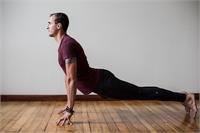 Exploring modern yoga has become a mine field of blind leading the blind, with emphasis on Yoga, for asana's sake.
""If getting deeper into a pose isn't getting me deeper into my life, then why am i doing it?""
Developing yoga as a tool for exploration greatly influences the teaching style and approach Peter takes to exploring the depths of yoga. In 2012 Peter was introduced to yoga though one of the more common avenues of discovery, asana. Being drawn by the allure of physical activity amongst a mostly female and nurturing client base created an easy place to find something that felt like personal intimacy/sovereignty. Not long after finding this connection, it was further explored though teacher trainnings, philosophy and long held silence. His practice has continued to develop and branch out, all coming from the root of simply connecting to a place of stillness/fullness/emptiness. This is exactly the intention behind every class, to look for a space in ones mind that is free of pattern, a place to rest and come to know the part of us that is consciousness. Classes are often accompanied by bowls or chanting and always leave room for practitioners to explore their own practice as it comes to them.
Peter Monos instructs the following:
A style of practice where passive poses are held for up to seven minutes each to encourage the softening of connective tissue. Deeply relaxing. No standing poses and no vinyasas! No yoga experience is required.




Learn the fundamentals of a vinyasa style practice, where movement is linked with breath. Expect to sweat in this class geared to those new to yoga practice. A general level of fitness is recommended.




The class takes place in a heated room with low light and the hum of chanting vibrating through the space. After a brief introduction, students are encouraged to find and engage in their own practice or to follow along with the instructions as it agrees with their bodies. The class is an hour long and is wholly accompanied by Tibetan Singing bowls. This class is geared towards veteran yogis, encouraging freedom to explore ones own body and practice in a supportive and nurturing space; while new students are welcomed to find inspiration from their peers.