Shanel Scott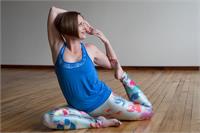 Shanel discovered yoga through her first love, dance. While completing her BFA in dance at York University she took to her yoga mat to stretch, strengthen and release stress. Over the years of practice, Shanel found yoga did more than fulfill her love for movement, it also became a spiritual journey showing her a deeper connection to the body and soul.
Shanel enjoys teaching flow classes allowing the inspiration of dance and her love of movement guide her. As well, Shanel is a Reiki Master Teacher who loves to bring her passion for the healing arts together with asana in a Reiki Flow.
Her favourite posture right now is savasana. Here the rest of the world melts away as the mind and body surrender to the yoga mat. Taking those last few moments of class to go within, give thanks for the practice and find a deep sense of peace.
Shanel Scott instructs the following:
Join Reiki Master, Shanel for a 75 minute ALL LEVELS FLOW class while indulging in the healing energy of Reiki. A real exploration of energy of asana!




An all levels flow class with an emphasis on deep stretches and longer held poses.




Our experienced instructors are excited to welcome all the little yogis back to the studio for another adventure into the magical world of yoga. Yoga empowers children to have a greater awareness of the self – body awareness, mindfulness, concentration and even learning to self soothe. Children with anxiety or who need to learn how to quiet themselves in a busy world, can benefit from yoga in their daily lives. At camp kids enjoy daily vinyasa and restorative yoga classes, meditation, crafts, games, and singing. Tons of FUN for your little yogi!

Camp Hours: 9am to 4pm
Cost: $179 Full Week | $40 Single Day

Extended Care - 8am to 5pm | $10/day


*second child is 25% off


Healthy morning and afternoon snacks are provided. Bring your own lunch.




Enjoy this candle-lit class created to relieve stress and tension. The heat stimulates deep muscle release and detoxification of the body and the relaxed atmosphere helps to quiet the mind. This class is open to all levels, including absolute beginners and a great introduction to the Infrared Hot room.




Each week you will be lead through either a yoga nidra or guided meditation. Yoga Nidra or 'lucid sleeping' is among the deepest possible states of relaxation while still maintaining full consciousness. This class will leave you feeling as though you have had a 3 hour nap! Perfect for those with busy lives, new or expecting parents, or simply to help balance the stresses of everyday life.