Tim Smith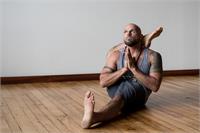 Tim started his yoga journey in 2003 with books and through self instruction he developed a consistent home Hatha practice. In 2011 after 8 years of home practice he took his first yoga class and quickly gravitated to Ashtanga Vinyasa Yoga where he eventually met Ron Reid at Downward Dog Yoga Centre in Toronto. Through Ron's training Tim deepened his understanding of body movement within Ashtanga's first series and the beginning of second series. In 2015 Tim furthered his yoga studies by making his first trip to Mysore, India to study with Sharath Jois, the director of the Shri K Pattabhi Jois Ashtanga Yoga Institute and the grandson of the institute founder Pattabhi Jois. Tim continues to practice Ashtanga daily under the capable instruction of KPJAYI Authorized Lv 2 teacher Anna Muzzin and has completed second series with Anna's guidance. Tim now blends tradition with evolution to support growth and understanding of the practice of yoga in a non harmful way which involves an open dialog between student and teacher.
Tim Smith instructs the following:
The traditional Primary Series as taught by Sri K Pattabhi Jois. This sequence never changes week to week, as the practitioner commits it to memory, it takes on a meditative flow. Please allow 90min.