Anna Muzzin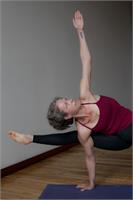 Anna was introduced to Ashtanga nearly six years ago while living and working as a pottery teacher (and Canadian ex-pat) in Baltimore, Maryland. The challenge and focus of the practice immediately drew her and the remarkable changes that impacted her daily life encouraged Anna to make her first trip to Mysore in 2010. She continues to travel to India regularly to study with R. Sharath and Saraswathi Jois, and in June 2012 moved to Greenwich, Connecticut where she spent the last year and a half learning and assisting under Authorized and Certified teachers at Jois Yoga. In 2013, Anna was given the blessing of Level 2 Authorization by The Shri K. Pattabhi Jois Ashtanga Yoga Institute. Anna believes in the transformative power of Ashtanga and is eager to share the practice and witness the evolution of others on this journey.
Anna Muzzin instructs the following:
The traditional method of learning the Ashtanga practice. You come to your mat and the instructor is there to watch your practice and offer verbal and hands-on adjustments. It's like a private yoga session but with others in the room. This is arguably the most rewarding form of yoga practice as it empowers the yogis to follow one's own breath and learn to master a self-guided practice.

REGULAR CLASS PASS CANNOT BE USED.