Jenna Speziale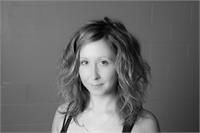 Jenna's first yoga class was with Andre Grandbois at De La Sol with her sister by her side. Within moments, she knew that yoga was meant to be in her life…forever! Since a young child, Jenna has always had a passion for movement, which was reflective in her professional dance background consisting of ballet, jazz, and contemporary.
She completed her 200 hour YTT at De La Sol in 2013 alongside her older brother and sister. She has also completed a Yin Yang teacher training and continues to further develop her knowledge through a variety of workshops and trainings.
Jenna believes that exploring mental, physical, emotional and psychological challenges on the mat is transferrable to how we act act/react and deal with everyday situations in our lives off the mat. Through a deep dedication and passion for yoga, Jenna strives to encourage others to open their eyes, hearts, and minds to the beauty that surrounds them.
Jenna's favourite pose is Chakrasana. This pose feels light, open, and freeing, plus, who wouldn't enjoy the awakening of this pose…no caffeine necessary!
Jenna Speziale is currently not instructing any classes.