Michelle Hudecki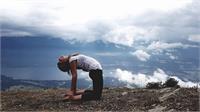 Michelle's practice began in 2006 after the demands of competitive gymnastics began to take their toll physically. In the search of something to maintain the physical and mental challenge she'd both craved and become accustomed to, Michelle took her first yoga class at a local church and became a regular student. Yoga had such a gentle, healing and magic quality it became a regular practice for Michelle.
After completing her first 200h RYT in 2013 training program under the tutelage of Katie McClelland, the endless study continued with noted instructors such as Doug Swenson, Kino MacGregor and Meghan Currie.
Michelle has used yoga to the benefit of many facets of her life and passionately passes along that experience to all of her students, regardless of skill level.
While serious about her practice she likes to keep the atmosphere in class light and welcoming for all.
Michelle's favourite pose is Ustrasana because it is an uplifting posture, which stimulates the nervous system and opens the heart. This pose leaves you with a glowing energy and vitality for the rest of the day!
Michelle Hudecki instructs the following:
A popular style of practice where the first half of the class is vigorous (a level 1 flow) and the second half is passive and restorative.




Suitable for most yoga students, yin yoga is the perfect complement to the hectic, fast-paced, yang lifestyles we usually lead. A quiet practice, yin yoga invites stillness of mind and body by soothing and quieting the central nervous system. Postures are gently held for 3-5 minutes, giving the body opportunity to open and release tension from deeper connective tissues in the spine, hip and legs. A regular yin yoga practice is a great addition students with more dynamic daily physical activities and is also beneficial for those interested in meditation as well as students wishing to increase their range of motion or increase the flow of energy within their bodies. See you on the Yin side!




A flowing, mindful connection of movement and breath. Led with poetry, introspective themes and opportunities to look deep within heart, body and spirit.




Enjoy this candle-lit class created to relieve stress and tension. The heat stimulates deep muscle release and detoxification of the body and the relaxed atmosphere helps to quiet the mind. This class is open to all levels, including absolute beginners and is a great introduction to the Infrared Hot room.




Immerse yourself in the blissful practice of yin yoga and aromatherapy. Explore a deep stretch as you move into your own personal edge through a series of postures; resting into each shape anywhere from 3 to 5 minutes. Deeply release tension as you stretch the connective tissue of your hips, pelvis and spine. Essential oils are incorporated into this class to enhance your experience by creating a sense of deep relaxation. This practice is suitable for all levels.