Charlene Rennick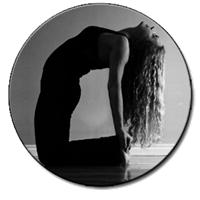 Charlene's first contact with a yoga mat was in 2004, when she tried yoga as a way to balance out injuries in various stages of healing. What began as a physical therapy practice, soon started to permeate through her mind and spiritual body. "The practice of yoga is like cleaning a deep layer of dust from your soul and not knowing what you might find when the image becomes clear. It takes a big heart, a lot of work, and the willingness to accept what you see."
Today, Charlene is a Yoga Alliance Registered 500 hour teacher with additional certifications in Restorative Yoga, Ayurveda and Thai Massage. She is a talented Astrologer and a Leader in Women's Spiritual Earth Wisdom ways. She wishes to thank her teachers, Katie McClelland for starting her on her yoga journey and Saul David Raye for guiding her through her advanced training, showing her the way to her big Bhakti heart and igniting her love of Kirtan.
Charlene runs her own business out of her home, Sunninghill Yoga and Thai Massage, where you can purchase home-made beeswax candles, ayurvedic lotions or book yourself in for a Thai Massage, a Reiki treatment, an Ayurvedic consultation or an in-depth Astrology and natal chart reading.
In Charlene's class, she will gently guide you through an exploration of yourself using the lens of Tantra (philosophy), asana (poses), pranayam (breathwork), mantra (uncomplicated intentions), and meditation.
Her favourite pose is Ardha Chandrasana (Half-Moon) pose because it feels like a metaphor for life. "Sometimes it is easy to stand on one leg and look up without fear, and other times it is difficult to find balance. It is on these days when I know I need yoga the most to clear my thoughts, breathe, stop struggling and allow myself to wobble a bit."
Charlene Rennick is currently not instructing any classes.