Anthony Berlingeri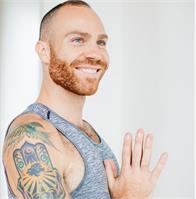 Anthony relates yoga to being in a relationship; it takes commitment, vulnerability, playfulness, faith, forgiveness, & compassion. Anthony's love affair with yoga began about 8 years ago & like most relationships do, it started on the surface. My hamstrings were super tight and I wanted to loosen up while toning my body. Little did I know yoga would remain with me throughout some of the hardest times of my life. Yoga became a mirror for me to see myself in. Most of us start to practice for the simple reason of strengthening the mind and body, but ultimately we begin to re-discover our own truth. We get out of our heads and into our Selves, which is the very nature of love. As a teacher I believe the essence of yoga is also the art of living. Its about being present for our Self, and the world that we live in, so that we can express and celebrate the divinity that we all share. Yoga isn't a religion, nor does it have anything to do with becoming a better person. Its simply about letting go of the past, as well as our fears of the future, so that the gift of the present can be received! Anthony is recognized in the community for his commitment to bring yoga and meditation into schools through his Yoga Affects Youth initiative. His intention is bring the gift of yoga and meditation to children so that they can begin the path of their own discovery from an early age. For more information check out yogaaffectsyouth.com.
Anthony's favourite yoga pose is Salamba Sirsasana (Headstand). It's not often he flips his world upside down, but when he does it gives him a completely different view and perspective. It also forces him to be present to avoid tumbling over.
Anthony Berlingeri is currently not instructing any classes.