Anthony Berlingeri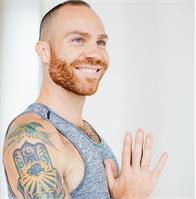 Anthony relates yoga to being in a relationship; it takes commitment, vulnerability, playfulness, faith, forgiveness, & compassion. Anthony's love affair with yoga began about 8 years ago & like most relationships do, it started on the surface. My hamstrings were super tight and I wanted to loosen up while toning my body. Little did I know yoga would remain with me throughout some of the hardest times of my life. Yoga became a mirror for me to see myself in. Most of us start to practice for the simple reason of strengthening the mind and body, but ultimately we begin to re-discover our own truth. We get out of our heads and into our Selves, which is the very nature of love. As a teacher I believe the essence of yoga is also the art of living. Its about being present for our Self, and the world that we live in, so that we can express and celebrate the divinity that we all share. Yoga isn't a religion, nor does it have anything to do with becoming a better person. Its simply about letting go of the past, as well as our fears of the future, so that the gift of the present can be received! Anthony is recognized in the community for his commitment to bring yoga and meditation into schools through his Yoga Affects Youth initiative. His intention is bring the gift of yoga and meditation to children so that they can begin the path of their own discovery from an early age. For more information check out yogaaffectsyouth.com.
Anthony's favourite yoga pose is Salamba Sirsasana (Headstand). It's not often he flips his world upside down, but when he does it gives him a completely different view and perspective. It also forces him to be present to avoid tumbling over.
Anthony Berlingeri instructs the following:
This non-demanding practice is a supportive approach to gently opening the body, finding proper alignment and relieving the mind of stress and tension. This class is the best choice for those looking for a gentle practice with little up and down from your mat as it does not include vinyasa. The slower pace is suitable for those with injuries or mobility issues as well. Wether looking for a gentle practice, a beginner class or needing to slow it down due to injury this is a great option for you.




Open Flow is a class designed to cater to students of all levels who have a generally good level of fitness and ideally, some yoga experience. Different modifications will be offered to suit intro level students up to intermediate and advanced.




Enjoy this candle-lit class created to relieve stress and tension. The heat stimulates deep muscle release and detoxification of the body and the relaxed atmosphere helps to quiet the mind. This class is open to all levels, including absolute beginners and a great introduction to the Infrared Hot room.




A non-athletic style of practice suitable for those with injuries or mobility issues. A supportive and intelligent approach to gently opening the body, learning to breathe more efficiently and relieving the mind of stress and tension.




An all levels flow class with an emphasis on deep stretches and longer held poses.




Using the principles learned in an Intro, this class moves you through sequences at a faster pace and explores more challenging asanas such as backbends and arm balances. Flow classes contain elements found in Ashtanga, Vinyasa, Anusara and Iyengar practices.




An all-levels flow class with an emphasis on long held stretches. A delicious way to end the day!




If you are new to yoga, this is a great class for you. The flow is slower paced and soulful, with an emphasis on long held stretches. There is a focus on more of the basic postures, with strong alignment cues to help you navigate the practice while starting out. Whether a seasoned yogi or new to your mat, you are bound to feel stretched out and rejuvenated after this practice.