Kelly Fife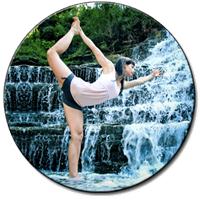 As a competitive gymnast, Kelly was trained from a very young age to ignore how her body was feeling and to push through pain. This mindset stayed with her for years, but ironically only lead to tight muscles and stiff, achy joints. Although Kelly was initially drawn to yoga to increase pain free range of motion, she has since learned how to move and breathe with awareness, as well as experienced the physical and psychological benefits of leading a mindful life.
A recent graduate from De La Sol's 2011-2012 Yoga Teacher Training Program, Kelly's classes are inspired by the benefits of maintaining proper alignment while moving in and out of postures, as well as by the enjoyment she has found in moving with breath while flowing from one posture to the next.
As a student in her class, Kelly hopes you will find space to move with your own breath, explore your own practice, and eventually experience how a mindful practice on the mat can lead to greater overall well-being once you are off.
Kelly's favourite yoga pose is Adho Mukha Vrksasana (Handstand). Even if just for a split second, there is a feeling of weightlessness she can find there that she never experienced standing on two feet!
Kelly Fife instructs the following:
Using the principles learned in the Intro or Fundamentals class, this class moves you through sequences at a faster pace and explores more challenging asanas such as backbends and arm balances. Our flow classes contain elements found in Ashtanga, Vinyasa, Anusara and Iyengar practices.