Luisa Caruso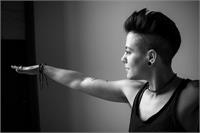 Luisa is a registered Yoga Alliance teacher, she graduated from Prana Yoga College in Vancouver in 2009. She started practicing as a result of a drawn out battle with depression and anxiety and began seeking alternative therapies to support growth as well as emotional and physical wellness. Since studying out west she continued her yoga practice with many Iyanger, Ashtanga, Restorative and Yin inspired teachers, she is currently studying Ayurveda.
Luisa has been practicing yoga since 2006 and has accumulated over 500 hours of both teaching and studying experience, she is also a certifed Reiki Master Practitioner and Teacher. Luisa has a passion for social justice and activism and is currently pursuing her apprenticeship in Child and Youth Work, she believes that her yoga practice has nurtured and supported these passions. Luisa teaches both Flow and Yin classes, with specific emphasis on breathing and awareness of the patterened habits of the mind and body. In her classes you will create both strength and flexibility in balance, combining controlled movement, deep stretch and a good laugh.
Luisa's favorite posture is Adho Mukha Svanasana (Wild Thing / Flip Dog). Letting go and dropping back into the unknown, opening the heart while cultivating strength in the arms.
Luisa Caruso instructs the following:
Learn the fundamentals of a vinyasa style practice, where movement is linked with breath. Expect to sweat in this class geared to those new to yoga practice. A general level of fitness is recommended.




A style of practice where passive poses are held for up to seven minutes each to encourage the softening of connective tissue. Deeply relaxing. No standing poses and no vinyasas! No yoga experience is required.




Enjoy this candle-lit class created to relieve stress and tension. The heat stimulates deep muscle release and detoxification of the body and the relaxed atmosphere helps to quiet the mind. This class is open to all levels, including absolute beginners and is a great introduction to the Infrared Hot room.