Anwar Qureshi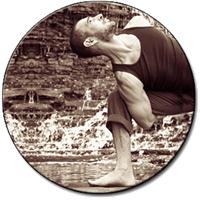 Anwar found yoga in 2006 after realizing an active youth had given way to less healthy habits as he aged. Determined to regain his healthy lifestyle, he was drawn to yoga for it's fitness component, which works as one of the best cross trainers for many athletic endeavours. After practicing casually for two years Anwar found it was the mental and emotional benefits that kept him coming back to his mat.
With the new found depth to his practice, Anwar began practicing more seriously and completed his 200 Hour Teacher Training Certification at De La Sol in 2011 and is now teaching yoga full time. Anwar has taught with Yoga Rocks, a yoga program that brings yoga to high school boy's gym classes.
It is the combination and balance between the physical and mental that led Anwar to reorient his life towards practicing and teaching yoga. His favourite pose embodies these qualities, Adho Mukha Vrksasana (Handstand), which requires both focus and strength.
Anwar Qureshi instructs the following:
Using the principles learned in an Intro, this class moves you through sequences at a faster pace and explores more challenging asanas such as backbends and arm balances. Flow classes contain elements found in Ashtanga, Vinyasa, Anusara and Iyengar practices.




Learn the fundamentals of a vinyasa style practice, where movement is linked with breath. Expect to sweat in this class geared to those new to yoga practice. A general level of fitness is recommended.




Open Flow is a class designed to cater to students of all levels who have a generally good level of fitness and ideally, some yoga experience. Different modifications will be offered to suit intro level students up to intermediate and advanced.




Enjoy this candle-lit class created to relieve stress and tension. The heat stimulates deep muscle release and detoxification of the body and the relaxed atmosphere helps to quiet the mind. This class is open to all levels, including absolute beginners and a great introduction to the Infrared Hot room.