Donna Powell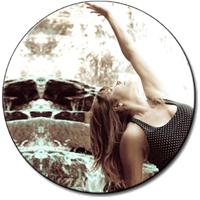 Donna began her yoga journey with Susan McClelland and Nesta Falladown in 2002. She enrolled in The Yoga Centre of Burlington's intensive 2 year Teacher Training program and it was there that she met Katie McClelland who became a personal friend, soul sister and guru who inspired Donna to experience the joys and rewards of teaching Ashtanga Yoga.
Donna has taken teacher training with Francois Raoult and David Swenson and continues to attend classes offered by a variety of accomplished practitioners such as Seane Corn, Baron Baptiste and Doug Swenson. Donna currently teaches a Gentle Hatha class in a calm, nurturing, supportive environment designed to give students a strong base from which to expand their practice and personal connection to their true nature and spirituality.
Donna's favourite yoga pose is Vasisthsana (Side Plank) because of the wonderful feeling of being lifted from below, the way the heart opens as you reach for the sky. The pose is a beautiful balance of being grounded and strong while soaring and reaching to the heavens with an open heart!
Donna Powell instructs the following:
Enjoy this candle-lit class created to relieve stress and tension. The heat stimulates deep muscle release and detoxification of the body and the relaxed atmosphere helps to quiet the mind. This class is open to all levels, including absolute beginners and is a great introduction to the Infrared Hot room.