Katie McClelland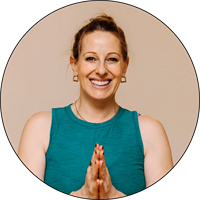 Katie McClelland has been teaching yoga full time since 1997. She likes to joke that she was certified to teach yoga while still in the womb, as her mother went through yoga teacher training while pregnant with her! Katie's roots are in ashtanga yoga and she derives inspiration from many styles of yoga including Vinyasa, Iyengar, Anusara and Kundalini.
Katie is the founder of De La Sol Yoga Studios in Hamilton, Ontario, Canada which first opened in 2006 and expanded to a second location in January of this year. She is the host of Yoga With Katie, a 30min instructional yoga show which airs six days a week and is seen by 900,000 viewers. Recently, Katie has been speaking out at high schools and recovery centers about her history of drug addiction and ongoing journey towards wellness and wholeness. She is currently working on her first book, a memoir titled Waking Up.
Katie McClelland instructs the following:
Join Katie McClelland for one of her most popular workshops! Chakras are vortexes of energy that reside in all of us and receive information and nourishment from the world around us. Katie has spent 20+ years exploring the chakras through meditation and study. Take a journey into this fascinating system and learn how the health of these 'energetic organs' affect every area of your life. By the end of this workshop you will leave with a real connection to your own chakras and understand clearly where there is work to be done!

FREE for 30 day challengers! Non-challenger? Join in for $20




Join owner / director Katie McClelland as you perfect your vinyasa! Tricks and tips for making plank, push-up, upward and downward dog accessible and enjoyable! Jumping back, forward and through to seated will be covered!

This workshop is ALL LEVELS and is included for all 30 day challengers! $20 for non challengers.

Online reservations are available for everyone. Non challengers payment is due before attending this workshop.